Welcome to Oboe Obsession, the Oboe specialists in Australia & New Zealand.
We sell Oboes, Oboe Reeds and Accessories. Our instruments are selected by professional Oboe players from the finest Oboe makers in the world so you can be sure you're buying a quality instrument. Where possible we'll choose an Oboe especially for you. We're happy to take special orders and if you need help or advice check out our blog or contact us.
We are dealers for KGe, F. Loree & Rigoutat. Our NZ store sells Marigaux
Beginning the Oboe
It's easier than you might think to learn the Oboe and it could be a wonderful opportunity for your child. If you're just starting out here are some tips from an oboe teacher with more than 30 years experience.
Read more....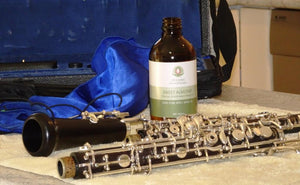 How to care for your new wooden Oboe
New oboes need extra care, especially if they're made from wood. Learn how an experienced professional oboe player keeps his instruments in top condition. 
Read more...
Blog
---
Have you ever wondered where your Oboe or Bassoon Reed comes from or how it was made? Take a look behind the scenes at the KGe Reed & Oboe factory...
I was excited to be invited to Africa to teach & play the oboe in an Easter concert in Kampala, Uganda. About five years ago I visited South Africa and...